Many books have inspired and enthralled me, and as a result, many books have changed my life, even in the smallest way.
But if I had to choose just one (…which I do, 'cause that's the challenge) it would have to be Snugglepot and Cuddlepie by May Gibbs. The reason is quite simple: it was the first book that I can remember reading all by myself (a proud achievement in and of itself), but was also the first one that had me thinking, "Wow, this book is great… I wish I could write something that would entertain people like this!"
And thus the dream began…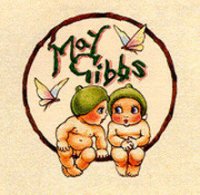 …Plus, they are just freaking adorable.
(Not Banksia men, though. Banksia men are the reason why I refused to sit beneath our Banksia tree at home. Because I just knew that if I let my guard down, a tribe of Banksia men would fall upon me and drag me back to their lair…
…And I dunno about you, but that picture doesn't appeal to me at all.
- Love The Bad Guy