I sat down to a Literature tutorial at university last semester and we began to discuss that colossal literary giant, "The Canon"; this led to a conversation about our favourite books, and those that we feel are in someway important to read. Around me, students began to state their favourite books: Great Expectations, Wuthering Heights, Heart of Darkness, Things Fall Apart, Pride and Prejudice – the list was never-ending. I nodded to some suggestions and balked at others, but all the while, a little voice in the back of my mind was asking, "Why are we only mentioning the classics?"
So I spoke through the din of conversation and said, "What about Harry Potter?"
Lightbulbs pinged above everyone's head as we started a new discussion about why the Harry Potter series was important to our generation. It was as the class was coming to an end that I added, somewhat dreamily, "And reading Harry Potter is how I discovered my literary soul-mate."
Many people nodded in sheepish agreement, while my tutor asked curiously, "We were just commenting on the fact that Harry is almost an empty slate – a character with whom everyone could associate. What is it about him that you like so much?"
I stared blankly for a moment before laughing. "Oh, Harry Potter isn't my soul-mate. I was talking about Tom Riddle."
That's right, people. My Literary Soul-Mate is Tom Marvolo Riddle from the Harry Potter Series.
Needless to say, my fellow classmates gave me some rather concerned looks. "You mean, Tom Riddle Junior? As in, Voldemort?" one student questioned. My confirmation led to an awkward silence. Thank God for the end of class.
But it shouldn't come as a surprise to you all. My blog is called Love The Bad Guy. And it doesn't get much badder than Lord Voldemort. Remember: maybe the only thing those villains needed was a hug…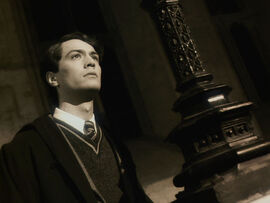 …And I could hug that all day.

- (In) Love (With) The Bad Guy