Let's be honest – most of the people who come to my blog do so for one reason: curiosity. When you bless your little slice of the internet with a name like "Love The Bad Guy", people tend to notice. It's ambiguous; it's funny; quite frankly, it's a bit weird, but you roll with it. You come for the name, and I'm honoured to find that some of you stay for the stories.
I've made it clear that I have a soft spot for villains. However, thus far, I have only talked the talk – it is time that I walked the walk.
So, I am introducing the first of an ongoing segment here on "Love The Bad Guy".
I call it: Why I Love That Bad Guy.
And who better to start with than my blog's image and, dare I say it, mascot: Lord Voldemort.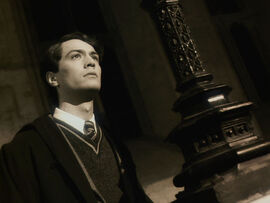 Name: Tom Marvolo Riddle (a.k.a. Lord Voldemort)
Origin: Harry Potter series by J.K. Rowling
History:
Tom Riddle was born on the 31st December, 1926, and grew up in a Muggle orphanage. At the age of 11, Professor Albus Dumbledore informed the half-blood of his magical heritage, and the young boy began his schooling career at Hogwarts. Sorted into Slytherin, Tom soon learned of his powerful bloodline as the Heir of Slytherin and began to study dark magics.
After leaving school, Tom forged an identity as the Dark Lord Voldemort. Using Horcruxes, he began to ensure his immortality, but was foiled on the day that he attempted to murder Harry Potter, when the child's mother sacrificed herself and caused Voldemort's killing curse to rebound back to him, destroying his body and ripping him of his powers for thirteen years.
You know the rest…
Why I Love Him:
He takes his studies seriously (…Too much of a good thing, perhaps?)
Intelligence is sexy.
You have to admit – for a 71 year old…

…he doesn't look half bad.
I love a man with power, and this guy has enough of it to fill all of Gringotts Bank.
He can talk to snakes. Clearly, he is an animal-lover.
He sets a goal, and he goes for it. I like his determination.
I Would Love Him More If:
…he hadn't gone and died. That would have been super. (FYI, if it had been me, I would have had Voldemort win at the end of the series. No one would have seen that ending coming…)
Favourite Quotes:
Tom Riddle: "Greatness inspires envy, envy engenders spite, spite spawns lies. You must know this, Dumbledore."
Voldemort (through Quirrell): "There is no good and evil, there is only power…and those too weak to seek it."
Interesting Fact About Voldemort:
Vol de mort is French for "flight of death".
Verdict: AWESOME
- Love The Bad Guy